The stakes are high when it comes to product packaging for food products. Your customers trust you and your brand to provide safe packaging that won't leak, spill or let in contaminants. At Plastic Ingenuity, we respect that trust, and that's why our uniquely qualified products and manufacturing processes are the preferred choice of leading companies in the food service industry.
A packaging company can't take any risks when it comes to food service packaging solutions. The attributes that make plastic food packaging attractive and secure can sometimes compete, which is why it takes substantial experience and innovation to create plastic packaging that does it all. For example, packages should resist leaking and keep out bacteria without being too difficult for the consumer to open. They should be clear enough to effectively showcase the food, but must also be impact resistant. In some cases, they may need to be microwaveable, or able to withstand the heat of an oven and the chill of a freezer.
As you look through our gallery of plastic food packaging, think about the different attributes that your own packaging must have. You'll see for yourself that if you're looking for a packaging company that can provide secure, cost-effective, and versatile food packing solutions, Plastic Ingenuity has you covered.
---
Twist-and-Lock – 9 Inch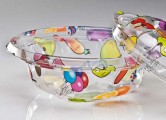 Twist-and-Lock
Latchable