Who We Are
Since 1972, we have been engineer-led. We have prided ourselves on being the expert problem-solvers and supporters clients across industries trust to form their packaging solutions.
Our Commitment
We aim to create best-in-class thermoforming packages that exceed the expectations of our clients, anticipate their future needs, and contribute to a more sustainable world. We'll continually improve our processes and maintain a strong engineering and technological focus, all while creating a safe, balanced, and fair work environment for our employees.
Our Values
We believe in safety and sustainability above all else. That means taking care of our employees and our planet through a safe work environment, a robust employee benefit program, internal sustainability practices, and circularity consultation services.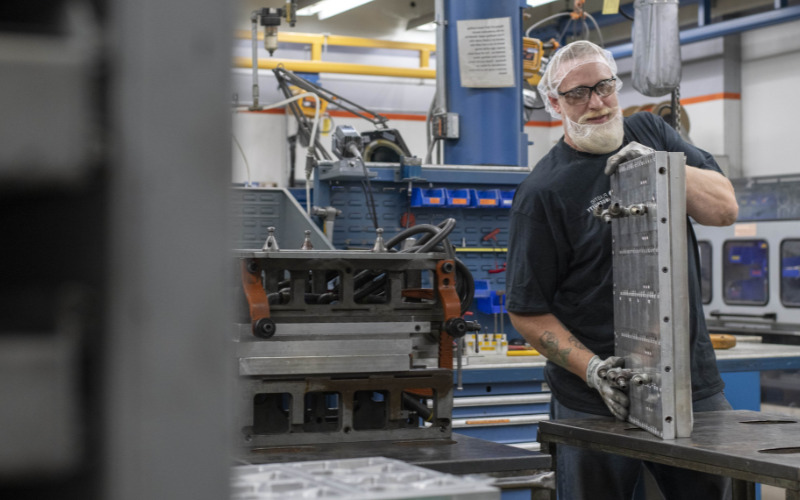 Our Team
The Plastic Ingenuity team is a close-knit group of engineers, designers, prototypers, and industry experts ready to help our clients shape their next solution.
A Look at Plastic Ingenuity Through the Years
From our start in 1972 with just 5 employees, Plastic Ingenuity has grown into one of the largest thermoformers in the nation.
1972 – A Humble Beginning
With just 5 employees and a 1,300 sq-ft. garage in Madison, Wisconsin, Plastic Ingenuity got its start.
1976 – Forming Our Brand
From 1976 to 1980, our services, sales, and employee base really began to grow. With over 50 employees and new capabilities like in-house extrusion, Plastic Ingenuity took shape.
1987 – Shaping Our Services
From 1987 to 1992, we focused on expanding our capabilities even further, including matched metal trimming, CNC machining, CAD/CAM design, co-extrusion, PET technologies, and in-line thermoforming technology.
2000 – Growing for the Future
From 2000 to 2006, Plastic Ingenuity continued to grow its Wisconsin headquarters while also opening a location in Mexico. We started polypropylene inline thermoforming and railcare resin procurement, and implemented a labelling system.
2007 – Completing Our Offices
Plastic Ingenuity continued to build additions to its offices, expanding to include space for growing engineering departments. In 2017, Plastic Ingenuity exceeded 500 employees.
Present – Helping Our Customers Succeed
From our first World Star Award in 2016 to the many certifications we've worked hard to get over the years, Plastic Ingenuity has positioned itself to create packages that help our customers succeed.

Interested in a career at Plastic Ingenuity? Check out our openings and join a group of people who are passionate about packaging and helping our clients succeed.